Honorary Professor Mike McNicholas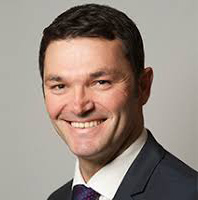 Honorary Professor Mike McNicholas is a Consultant Soft Tissue Knee and Trauma Surgeon at the University Hospital Aintree, Major Trauma Centre for the Cheshire and Mersey Region.
After completing Knee Fellowships in Edinburgh, Switzerland, America and Japan, he was appointed as a Consultant Trauma and Orthopaedic surgeon in Warrington General Hospital (2001), specialising in knee surgery. Mike qualified from the Universities of St Andrews (BSc, 1986), Manchester (MB, ChB, 1989) and Dundee (MD, 2000). His Orthopaedic training was in Dundee, and Edinburgh (FRCSEd Tr & Orth, 2000).
Sport has played a significant role in Professor McNicholas' life. He was a St Andrews University Blue in Swimming and Waterpolo and has also played Rugby, Volleyball and Football.
Given his background, Mike has a keen interest in sports knee injuries and their management for all levels of players, from Premiership footballers and elite athletes to those who just want to be able to have a kick-about in the garden with their kids. He has insurance allowing treatment of professional sports men and women. His continued interest in sports medicine has been recognised by election as a Fellow of the Faculty of Sport and Exercise Medicine of the Royal College of Surgeons of Ireland.
He is regularly invited to teach at national and international meetings, training juniors and other Consultants on arthroscopic surgery, ligament reconstruction, knee replacement and trauma surgery. He has been an Honorary Senior Lecturer Department of Musculoskeletal Biology at the Institute of Ageing and Chronic Disease, Faculty of Health & Life Sciences, University of Liverpool since August 2014 and has held an Honorary Professorship at the Directorate of Sport School of Health Care of the University of Salford since January 2006. He is an Associate Editor of the Journal of Orthopaedic Trauma and a reviewer for the Medical Research Council, the Bone and Joint Journal and The British Medical Journal.
The Mersey Regional Training Rotation nominated him as Trainer of the Year in 2012. He is Faculty for Train the Trainer, Training Assessment in the Clinical Environment and Advanced Arthroscopy Courses of the Royal College of Surgeons.
Mike is also member of the National Ligament Registry Steering Committee, promoting better outcomes data for anterior cruciate ligament reconstructions.
His current research interests include; stem cell applications in knee injury, outcomes following arthroplasty, ligament reconstruction, osteotomy, the treatment of focal articular cartilage defects and early arthritis using novel implants. Mike also focuses great interest on outcomes for complex trauma of the lower limb, such as high energy fractures treated by Ilizarov external fixation frames, multiligament injuries and dislocations of the knee and the surgical treatment of gunshot wounds.