Media
Latest Publication
2020 Annual report and Presentation from AXA-PPP: NLR Webinar June 10th 2020 Supported by CONMED UK
The 6th annual report of the NLR was launched at a special webinar supported by Conmed UK. Fares Haddad presented the latest data and interpretation. Sarah Taylor, Head of specialist and practitioner relations at AXA-PPP then gave an excellent presentation on 'Making Healthcare Better' - covering aspects of new innovations, specialist status and duration of physio following ACL rehabilitation.
The webinar was chaired by Mr Sean O'Leary and Mr Tim Spalding with resultant discussion all available at the link below
00.00 Introduction
02.26 NLR presentation Fares Haddad
26.50 AXA Presentation Sarah Taylor

2020 Annual report and Presentation from AXA-PPP
Annual Report 2020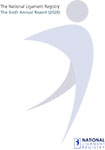 The 6th Annual National Ligament Registry Report has been published.
Open Brochure
Annual Report 2019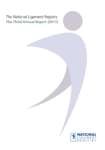 The 5th Annual National Ligament Registry Report has been published. For any feedback, please call or email [javascript protected email address].
Open Brochure
Annual Report 2018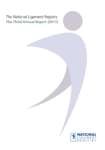 Please read this paper published by the British Journal of Sports Medicine, outlining the benefit or cata collection in registries - sharing the data world wide: Patient demographic and surgical characteristics in anterior cruciate ligament reconstruction: a description of registries from six countries
Open Brochure
Annual Report 2017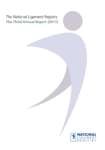 The 3rd Annual National Ligament Registry Report has been published. For any feedback, please call or email [javascript protected email address].
Open Brochure
Annual Report 2016
For any feedback, contact us at [javascript protected email address].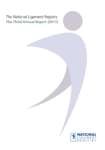 Open Brochure
NLR Annual Report 2015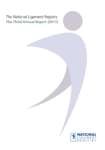 The data report looks at data collected between December 2012 and February 2015 on 2,854 anterior cruciate ligament procedures in the UK.
Please direct all feedback to [javascript protected email address].
Open Brochure
Swedish ACL Register Annual Report
Download the 2015 Swedish ACL annual report here
Download our new UK NLR poster.
Presented at the 2014 ESSKA meeting, Amsterdam.
Download our new UK NLR poster.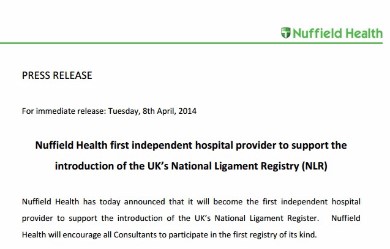 "Nuffield Health first independent hospital provider to support the introduction of the UK's National Ligament Registry"
Download the press release announcement from Nuffield Health.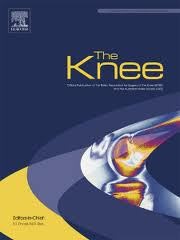 "Online data capture - the cost-effective means of improving compliance".The Knee

Download our editorial featured in The Knee

[Sean O Leary et al.]

Here are some useful websites and links for extra information:

The official BASK website

http://www.eorthopod.com/videos/anatomy-knee

A useful video demonstrating the anatomy of the knee.

http://www.boa.ac.uk/publications/documents/boa_cruciate_blue_book_2009.pdf

Information from the British Orthopaedic Association regarding 'Best Practise' for ACL Reconstruction

An excellent animation of the basic technique of arthroscopy. See 'Patient Animation'.

Information from the British Orthopaedic Association regarding 'Best Practise' for ACL Reconstruction

http://www.arthritisresearchuk.org/

The homepage of Arthritis Research UK. There is a wealth of information regarding joints, research, and a series of helpful downloads.


http://orthoinfo.aaos.org/menus/leg.cfm

The American Academy of Orthopaedic Surgeons website, containing a mulitude of useful information sections.

http://www.stopsportsinjuries.org/

The homepage of the STOP Sports Injuries campaign. The campaign was created by a coalition of organisations and corporations to help prevent athletic overuse and trauma injuries in children.


https://www.rheumatoidarthritis.org/

The Rheumatoid Arthritis Support Network (RASN) is dedicated to providing up-to-date information and resources for rheumatoid arthritis patients. Our goal is simple. We want RA patients to know their options and fully understand their diagnosis. You can take steps, right now, to improve symptoms and your quality of life.